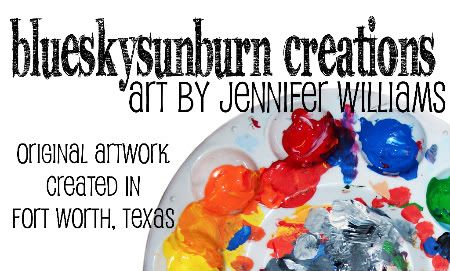 Jennifer really needs no introduction around the Etsy Fort Worth Team, as she is our founder and most gracious leader. She is a hoot and a fountain of information. I also suggest you follow her blog:

Trial and Error - http://www.blueskysunburn.com

For those of you who have not had the pleasure to meet her, I give you an interview with Jennifer Williams...
---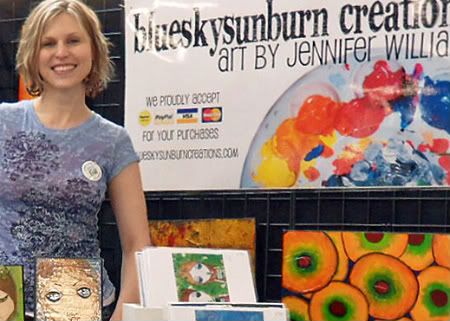 Tell us a bit about yourself (name, location, affiliations, and personal stuff)
My name is Jennifer Williams, I'm 30 years old and I live in Fort Worth with my husband of more than five years, a spoiled Siamese cat and a rambunctious Shepherd mix dog.
I work full time in mortgage law and am currently attending school to become a paralegal. In my spare time I create artwork for
Blueskysunburn Creations
out of my little studio in the back of my home.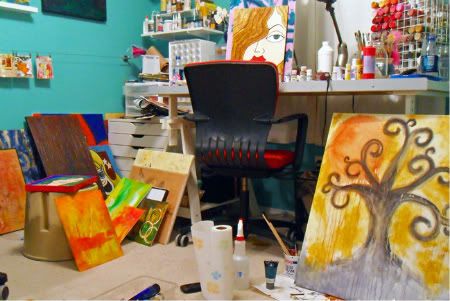 What is the first thing you can remember making by hand? How and why did you make it?
Hmmm…that's a tough one! I've been making things for as long as I can remember and many of my early memories get jumbled into one another.
I remember crafting Christmas ornaments with my family out of pompoms and googly eyes and being disappointed when my first attempt at making a pin wheel from a paper pattern failed.
What inspires you? Where do your ideas come from?
Anything and everything! My mind tends to bounce around quite a bit. I could get an idea from something someone said, something I saw on the way to work, a song playing on the radio…
I tend to doodle a lot – at work, while I'm watching movies/tv, when I'm angry or upset. My ideas come mainly when I'm not focusing on the ideas themselves.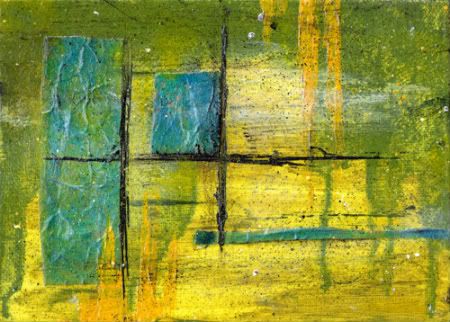 What are your favorite materials?
Anything that makes a great TEXTURE! My materials vary anywhere from artist texture mediums to sand mixed into paint. I love being able to run my hands over a finished project and FEEL the work put into it. I also enjoy working with paints (acrylic and watercolor) and colored pencil.
Any tips for selling handmade stuff?
Marketing, marketing and marketing! No one will know anything about you or your company unless you put it out there for others to see. This means promoting online and getting yourself out in the local craft events. Be yourself, enjoy what you do and it will shine through in your work.
Apart from creating things, what do you do?
I enjoy spending time with my family, going to outdoor festivals and events, taking walks, reading books, driving on long winding roads, baking and taking art classes to learn new techniques.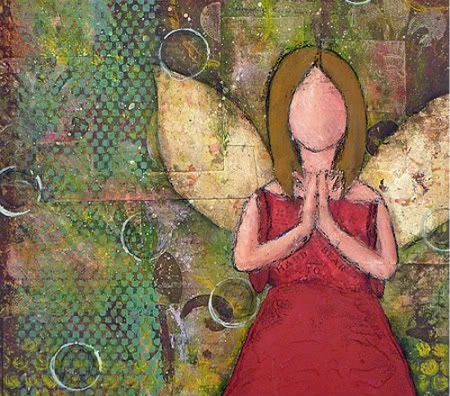 What handmade possession do you most cherish?
That would have to be this plaster plaque I have that my older brother painted when he was a boy. It's not so much handmade as it is hand painted.
It is one of those plaster paint it yourself type deals you get at the craft store. This particular one has some sort of vintage car on it.
Throughout the years the plaque had been beaten up and you can tell the painting is that of a child but it brings a smile to my face every time I see it.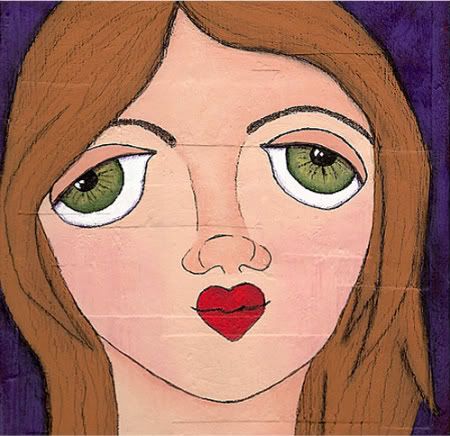 What advice would you give to artists who are new to Etsy?
My advice would be to not get discouraged. Many new artists think they will be able to jump on Etsy and instantly make a bunch of money selling items online. Unfortunately that's not necessarily the case.
You have to keep in mind there are thousands of others trying the exact same thing. It takes a combination of listing, promoting and sheer determination. Just keep trying and you'll find what works best for you.
Jennifer's Etsy Shop:
blueskysunburn.etsy.com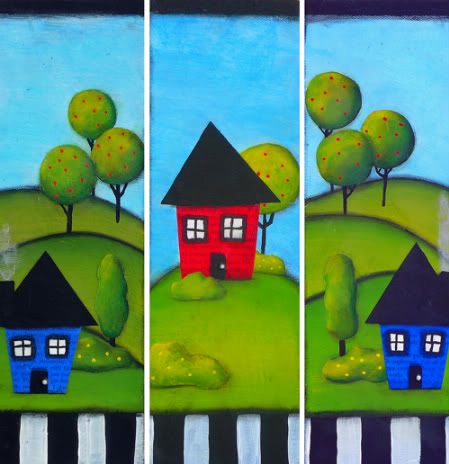 How do you promote your work?
In person preferrably but in addition to that I promote via my website, monthly newsletters, my blog, Facebook, Twitter, Myspace...I give business cards out whenever I can.
The most recognition I get isn't from online promotion but by networking at various local craft shows. Getting yourself out there and meeting people to put a face behind your work is key.
In ten years I'd like to be...
Making a living off my art full time.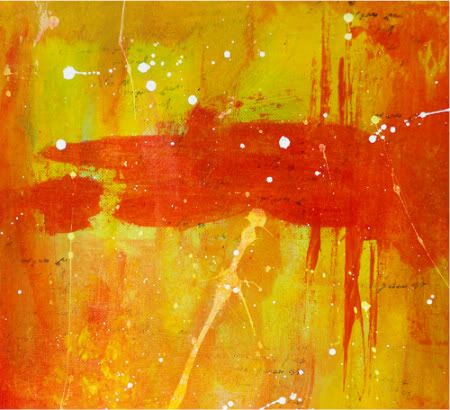 Please describe your creative process how, when, materials, etc.
My process is that there isn't one. I have paintings lining my walls that have been started and stopped at least a dozen times. The majority of my paintings stem from doodles I created and pasted inside my art journal. The other ones, well, they usually stem from being angry or upset at something.
I normally create first thing in the morning or last thing at night before I go to bed. In the middle of the day I'm too restless to focus on anything long enough.
When I'm in the mood to create materials don't really matter to me. I tend to paint or draw on whatever random piece of paper, wood, napkin, canvas I happen to set my eyes on. It doesn't always come out too pretty but that's the way it works.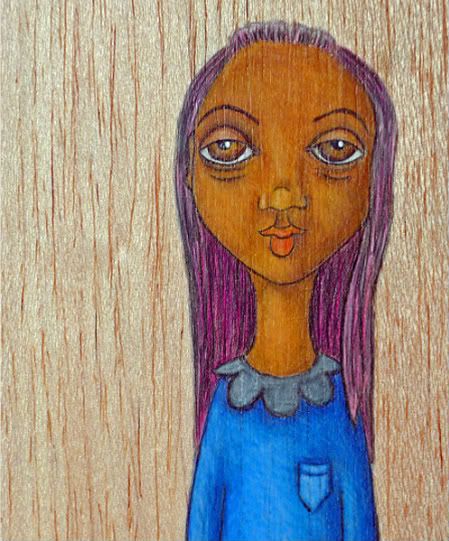 What first made you want to become an artist?
I didn't decide I wanted to be an artist until a couple of years ago. One day I had been working on a painting for a couple of hours and it dawned on me that I was completely content. I hadn't noticed how much time had passed.
I started paying attention to how I felt when I was creating and noticed I had that same feeling of contentment. After that there wasn't a decision to make. I knew what I wanted to be when I "grew up".
Now, I just have to get there.
---
"When I see these paintings, especially the ones of faces, I see a story in their eyes. Each one tells me a different saga, a new tale. Some tell me that they are ready to come live with me because there is so much to say it would take a life time to chat about. Others look at me like "What, you tell me, I am the one that needs help here!"

Point being that each one of Jennifer's pieces of art come to life in their own ways. If a piece is speaking to you, it might be time to just go ahead and bring it to its new home.

I think soon collecting Jennifer's pieces will not be such an easy task as logging on to ETSY and purchasing your favorites! Why settle for a print, when you can own the original?"
flowerbedhead.com
Thank you, Jennifer, for your time. It's really nice to get to know the person behind the "Faces" of Blueskysunburn Creations.
Trial and Error Blog
www.blueskysunburn.com
Jennifer's Etsy Shop
blueskysunburn.etsy.com
Art Portfolio
www.blueskysunburncreations.com